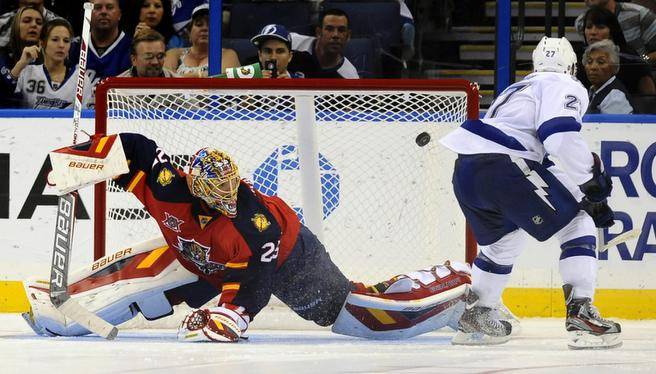 Jonathan Drouin buries a game-winning shootout goal on Jacob Markstrom in pre-season last year.
Do you want to make easy cash during the NHL season? Well if so, first sign up with NHL Expert Picks and secondly, place some money on Jonathan Drouin to win the Rookie of the Year for 2014-15.  It is hard to say what kind of season some of the top draft picks of this year's draft class will have, but it is almost certain to say Drouin will have a standout season in Tampa Bay. 
The Lightning did the right thing by sending the 19-year-old back to Halifax for one more year to develop and mature last year, where he is coming off his second straight 100+ point season in the QMJHL. The young winger should have no problem fitting right into the NHL game with an above average NHL team. One reason why he will be able to mesh into the pros is because of the great Steven Stamkos playing alongside of him. Stammer is a guy who could make Brent Sopel look like Bobby Orr out there, let alone a kid with Drouin's upside. Sure, Drouin probably won't be playing on the first line with Stamkos, but he will be able to see day in and day out what it takes to be a superstar in the NHL, something that kids like Jonathan Huberdeau and Barkov are missing with the other Florida team.  
Drouin's former teammate in Halifax, Nathan Mackinnon showed he had no problem competing on the big stage last year and you would be a fool not to think Drouin won't either. During the 12-13 season in Halifax, Drouin outscored Mackinnon by 30 points. Look for Drouin to win the Calder this season and remember where you heard it first.  
Also, if there was an award for the prettiest play in training camp, I think Drouin would have that one locked up too.  
Written By: Andrew Maronich